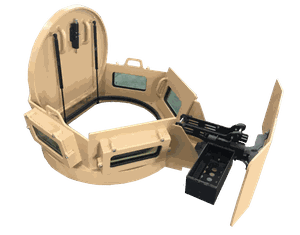 Applique Armour
Our armour system can be added to an existing platform by way of framing. This composite, lightweight and durable armour will be the defining factor in your protection.
Structural Armour
Our Composite Armour System is designed 100% structural, meaning you can eliminate the framing requirements that other traditional up-armouring requires.

SALO Plate
The armourer's Choice offers a unique combination of metal, ceramic and composite material configurations for lightweight, low-cost, and superior performance in the range of B4 to B7 levels of protection.

SALO Plate
The advanced SALO Plate offers a variety of options for attachment to a vehicle platform. Whether it be via applique method or utilizing our system as the structural components of the vehicle.
B4
Handgun

Caliber .44 Magnum
Ammunition FJ/PB/SC
Mass (g) 15.6 +/- 0.1
Test Range (m) 5.0 +/- 0.5
Velocity (m,s) 440 +/- 10


B5
AK-47

Caliber 5.56 x 45 mm
Ammunition FJ/PB/SC
Mass (g) 4.0 +/- 0.1
Test Range (m) 10.0 +/- 0.5
Velocity (m,s) 950 +/- 10


b6
High-Power Rifle

Caliber 7.62 x 51 mm
Ammunition FJ/PB/SC
Mass (g) 9.5 +/- 0.1
Test Range (m) 10.0 +/- 0.5
Velocity (m,s) 830 +/- 10

b7
AK-47

Caliber 7.62 x 51 mm
Ammunition FJ/PB/HCI
Mass (g) 9.8 +/- 0.1
Test Range (m) 10.0 +/- 0.5
Velocity (m,s) 820 +/- 10