High Cut Helmet - Shell
Weight =2.20 lbs. / 1 kg.
Level = NIJ Level 3A+
 High Cut Helmet - Slick
Weight =2.80 lbs. / 1.27 kg.
Level = NIJ Level 3A+
High Cut Helmet - Full system
Weight = 3.20 lbs. / 1.45 kg.
Level = NIJ Level 3A+
TN4C High-Cut Helmet

Helmet Specifications
NIJ IIIA Certified Helmet: Exceeds NIJ 0101.06 Level IIIA penetration and backface deformation (BFD) rating against 9mm FMJ, .357 SIG and .44 Magnum calibers.
Exceeds DEA and FBI Ballistic Research Facility Helmet Protocols for 9mm and .44 Mag BFD
Exceeds VPAM 3 and HPW-TP0401.018 Sec. 9 with an average BFD of 4 millimeters (mm) and a maximum BFD of 11 mm.
Exceeds US MIL STD 662F and STANAG 2920 fragmentation ratings for 17 gr. FSP V50 at 2235 fps (681 mps)and 16 gr. RCC V50 at 2622 fps (799 mps)
Exceeds AR/PD 10-02 Rev. A:2012 and CO/PD 10-05-04:2207 helmet blunt trauma impact rating.
OPTIONS:
Helmet comes standard with dial retention X-Nape chafe-free chin strap and comfortable 3/4 inch thick liner pads made of high and medium density closed cell foam with anti-microbial and thermal regulating fabric (add 0.5 lbs to shell weight). Side rails and NVG mounts sold separately.
Available in Black, OD Green, Coyote Tan, Gray, and Multi-Cam in 2 sizes S/M and L/XL
 "SLICK" = No Rails or NVG mount, Pads and Retention Strap ONLY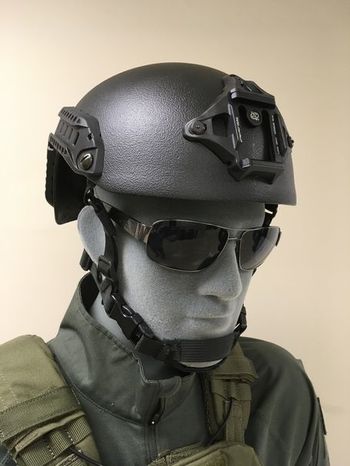 Shown fully outfitted with Rails and NVG Mount.

THREAT PROFILE
WEAPON TYPE
AMMUNITION
STRIKING VELOCITY FT/S (+/- 30)
STRIKING VELOCITY M/S (+/- 9)

.357 Sig Handgun


.357 SIG FMJ Flat Nose 




1470

448
.44 Magnum Revolver


.44 Magnum Semi Jacketed Hollow Point (SJHP)




1430

435
Fragmentation Testing
Fixed Receiver



16 gr. RCC






2475




755

Selection of body armour should at least provide protection against the officer's own weapon.

These products may contain technical data as defined in the International Traffic In Arms Regulations (ITAR) 22 CFR 120.10 or the Export Administration Regulations (EAR) 15 CFR Parts 730 – 780. The export of this material may be controlled by these regulations and may not be exported or transferred to non-U.S. persons without prior written approval from the U.S. government.

PLEASE NOTE THAT BY PLACING AN ORDER YOU AGREE TO COMPLY WITH ALL LOCAL, STATE AND FEDERAL LAWS REGARDING BODY ARMOUR
UNITED STATES LAW RESTRICTS POSSESSION OF BODY ARMOUR FOR CONVICTED FELONS. 
United States Law restricts possession of body armour for convicted felons. Many U.S. states also have penalties for possession or use of body armour for convicted felons. Armourer's Choice is also unable to ship any body armour plates, shields, etc. to the state of Connecticut. By purchasing body armour from Armourer's Choice you are certifying that you have not been convicted of any crime that would restrict you from being able to purchase or possess body armour under any Federal or State laws. Furthermore, you are acknowledging that you do not intend to use the body armour for any criminal purpose. 
Canadian Provinces - (Alberta, British Columbia, Manitoba and Nova Scotia) A license is required to possess body armour. While you should educate yourself on the local and provincial laws, there are no such restrictions in the rest of the country.
Learn more about the laws in your specific State, Province or Territory Here